H.R. GIGER'S FILM DESIGN
This exceptional volume includes each and every film and video project H.R. GIGER has worked on since his earliest efforts in 16mm through to his remarkable designs for ALIEN 3 and SPECIES! Includes over 200 striking reproductions, most in full color -- many of which have never been published!
Text by Giger illuminates each project from his personal perspective.
128 pages filled with detailed design drawings and airbrush paintings from well over a dozen unique projects!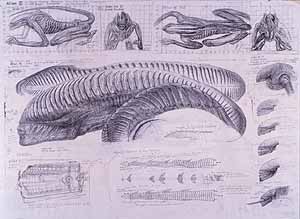 H.R. GIGER'S FILM DESIGN LIMITED EDTION AND ULTIMATE LIMITED EDITION!
This is perhaps the Ultimate collector's item for fans of H.R. Giger's legendary work in cinema! The Limited Edition comes bound in leather and foil-stamped, with a hand signed and numerbed print of Giger's main design drawing for ALIEN 3 bound in, and cased in a clothbound and foil-stamped slipcase. There are only 350 copies of this book bound!
AND... there is an Ultimate Limited Edition of this book (#1 to #150 of the 350 total) are bound in white leather and ship with a rolled, ready to frame, giant signed and numbered lithograph of the remarkable design drawing of the creature that changed science fiction for ever! This Ultimate Limited Edition is a set of collector's items that will make the collection of any fan of Giger, science fiction, film, or art! And besides that, it looks incredible framed and on your wall!